Baidu search engine is the best Chinese search engine with 75.93% overall market share and 82.47% for the mobile search engine in China, compared to 1.83% and 0.61% of Google. It's obvious that Baidu should be the right place to do the Chinese online market campaign if your targeting audiences are in China.
Robin Li launched Baidu in 2000. The name "Baidu" came from a poem, which used to describe "a persistent search for the ideal." After Chinese government banned Google in 2010, Baidu became the only one Chinese search engine in China mainland. However, the users in Hongkong and Taiwan are still using Google. Google does work if you want to target those Chinese audiences in the mainland market.
Another reason that Baidu has dominated the market is that Baidu has better algorism to parse and interpret Chinese test more effectively than other search engines.
The search engine has the biggest index of Chinese web pages in the world and indeed is entirely Chinese-focused. The user interface is only available in Simplified Chinese and gives much higher priority to Chinese language sites. Very few non-Chinese language sites are even included in the index or returned in search engine results.
Baidu SERP – What's Baidu Looks Like
At the very beginning, let's have a look at the Baidu search engine result page. Here is what Baidu shows when user search SEO in simplified Chinese. The SERP looks very similar to Google: two column arrangements with search result on the left and structured data on the right. Baidu's search result page contains much more paid advertising items than Google.
As mentioned before, Baidu's own products would take the top position and only show a few organic search results. It's estimated that around 30% of Baidu queries are redirected to one of Baidu's sub-product. Users have to scroll down to find out the organic search results. Based on this circumstance, the paid advertisement plays a more significant role for Baidu marketing than Google. In addition, marketers should invest more time and effort on those products such as Baidu Baike and Baidu Know.
Best Chinese Search Engine
Baidu.com is the world's largest search engine which covers 95% of global Chinese internet users. There are more than 5 billion search queries retrieved on Baidu.com. Similar to other search engines in the world, paid ads and SEO are the two primary things marketers have to focus on.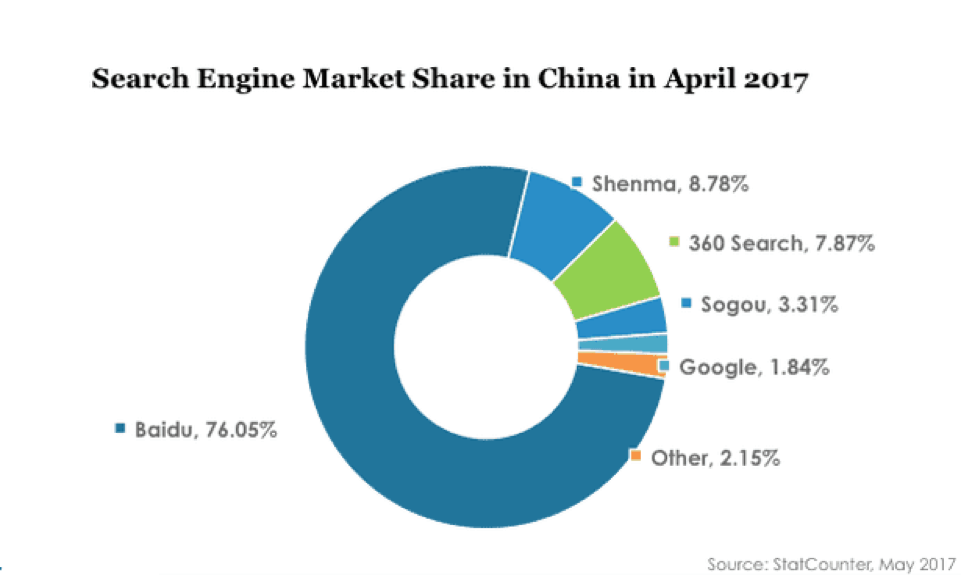 The most important thing you have to remember is that Baidu is the Chinese search engine and it only indexes Simplified Chinese Characters. For any English-speaking website, using simplified Chinese translation is the only way to show your result on Baidu. Furthermore, Baidu emphasis website performance differently compare to Google. Following is how Baidu and Google take weights.
As the same, Baidu has its own webmaster tool which is extremely helpful to monitor your SEO performance and maintain the sites' presence in Baidu's Organic search results. Any new sites are recommended to register on the Baidu Webmaster tool to be quick indexed by Baidu. However, the biggest challenge for English speaking markets is that the tool is only available in Chinese. Marketers may need someone in your team can read Chinese and managed the console.
If you have experience with Google AdWords, the Baidu PPC would be nothing new to you. It works similarly — bid on keywords and pay by click or impression. However, the marketer has to contact Baidu customer service stuff to open a Baidu PPC accounts, and one account can only publish ads for one company.
We highly recommend paid search advertising as a starting point for any marketer interested in developing a presence on Baidu. Ranking well organically is of course still helpful but is a longer-term process. PPC advertising ensures your site still gets traffic while Baidu indexes your content for its organic search rankings.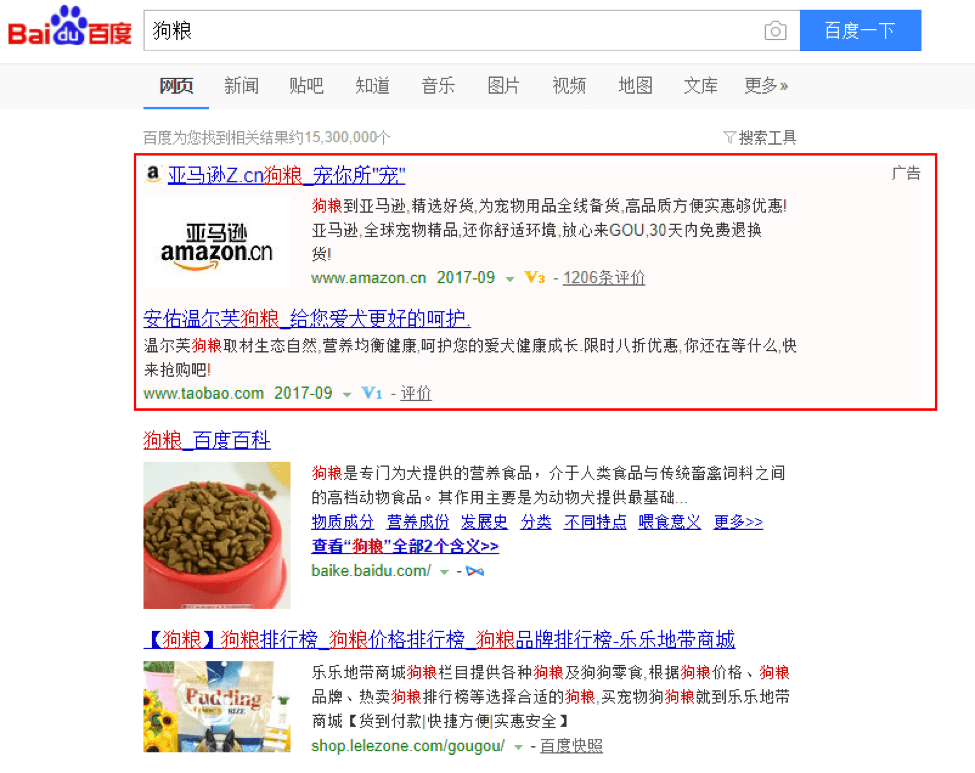 Other Baidu Marketing Tools
Baidu Forum (Baidu Tieba)
Baidu Forum is the most popular online forum in China, which is similar to Reddit in the US. Users could create the forum for any topic and share thoughts on the forum. For example, Baidu Nike Forum has 14 million posts and 2 million active users discussing the shoes and clothes they purchased.
The Baidu Forum is not only a place to build customer community but also is another chance of appearing on SEPR. It is similar as if you search some stuff on Google. The result you will get might be its official website, Facebook page or Amazon store.
Baidu Knowledge (Baidu Zhidao)
Baidu Knowledge would be the Chinese version Quora held by Baidu. There are 417 million daily page views and 230 million answered question. Other users can like or comments it. Baidu Knowledge result will appear on the top of Baidu organic search result page. You may be exposed by answering a popular or interesting question. Similar as Google AdWords community, it is a good way for building your brand awareness and trustworthy.
Also, Baidu Knowledge is extremely helpful for users who search long-tail keywords, query-based keywords. Baidu Knowledge is a force to be reckoned with and can be powerful SEO-wise if leveraged with the correct amount of subtlety. However, Baidu Knowledge has been prevalent of anti-spam efforts. It won't be useful if marketers only post short answers with backlinks by simply searching for questions related to the brand. The marketers should optimize their Baidu account so it's as branded and official-looking as can be, and offer up well-informed, credible answers.
Baidu Encyclopedia (Baidu Baike)
You can easily understand Baidu Baike as the Chinese version of Wikipedia. Baidu states officially that Baidu Baike serves as an online encyclopedia as well as information storage space for netizens. Given its prominence in the make-up of the Baidu SERP, SEO opportunity lies not only in the entry of brand or product-related articles but also in the editing of content, images, links and keyword tagging, specifically getting backlinks.
Given the stringent nature of verification as well as factors such as censorship. Getting verification can be a long march, though the potential for visibility on such a large and prominent platform really speaks for itself.
Baidu Experience (Baidu Jingyan)
Baidu Experience is a new product launched in 2010, focusing on supporting the users with practical problems. Baidu Experience has integrated and reformatted Baidu Encyclopedia and Baidu Knows. The first difference between Baidu Knowledge and Baidu Knows is that the former concentrates on specific "how to do" problems while the later contains a wider range of problems. The second difference is that users could share their experience without being asked on Baidu Experience.
For the marketers, it's always good to consider what scenario the user would use the product and create Baidu Experience based on the scenario. Another thing marketer should remember is that URL in Baidu Experience is not helpful for SEO purpose.
The content of Baidu Experience needs to be approved by Baidu and cannot add URL in the content. Compare to Baidu Encyclopedia, Baidu Experience is much easier to be approved.
Baidu and Google are very similar on the surface, but the deeper you go, the more the differences emerge. Baidu has more features and ads crammed into their SERPs, with deep integration with their products, but their algorithm is simpler than Google's regarding determining page quality and has a strong preference for everything Chinese.
While Baidu still follows Google in many ways, this may not be the case for much longer. With the development of machine learning being integrated into search engine algorithms, each will develop independently. As machine learning picks up on local user behavior and searches intent, cultural and behavioral differences of Chinese users will diverge Baidu even further from Google.
Again, if your business is targeting at Chinese customers, go for Baidu is an apparent thing. Submitting your Chinese version website to Baidu webmaster console is just the first step. Keep working on Baidu SEO, and paid ads would be required, also leveraging the power of other Baidu products to increase your brand appearance in Baidu search result page is also important.
In a similar fashion to what we have over here with Twitter, Facebook and beyond, the Chinese social media landscape is a goldmine of ideas and information for exploring content and getting closer to what people are really talking about.
If you're thinking about promoting your business to the Chinese audience, our team is always here for help. Contact us today.